The realization of the physiological mechanism of erection is associated with the release of nitric oxide (NO) in the cavernous body during sexual stimulation. This, in turn, leads to an increase in the level of cGMP, subsequent relaxation of the smooth muscle tissue of the cavernous body and an increase in blood flow. Sildenafil does not have a direct relaxing effect on the isolated human cavernous body, but it enhances the effect of nitric oxide by inhibiting PDE-5, which is responsible for the breakdown of cGMP.
Sildenafil is selective against PDE-5 in vitro, its activity against PDE-5 exceeds the activity against other known PDE isoenzymes: PDE-6 — by 10 times; PDE-1-by more than 80 times; PDE-2, PDE-4, PDE-7–PDE-11 — by more than 700 times. Sildenafil is 4000 times more selective against PDE-5 compared to PDE-3, which is of crucial importance, since PDE-3 is one of the key enzymes for the regulation of myocardial contractility.
A prerequisite for the effectiveness of sildenafil is sexual stimulation.
Sildenafil restores impaired erectile function under conditions of sexual stimulation by increasing blood flow to the cavernous bodies of the penis.
Sildenafil: clinical data
Cardiological studies. The use of sildenafil in doses up to 100 mg did not lead to clinically significant ECG changes in healthy volunteers. The maximum decrease in systolic pressure in the supine position after taking sildenafil at a dose of 100 mg was 8.3 mm Hg, and diastolic pressure-5.3 mm Hg. A more pronounced, but also transient effect on blood pressure was observed in patients taking nitrates.
In a study of the hemodynamic effect of sildenafil in a single dose of 100 mg in 14 patients with severe coronary artery disease (more than 70% of patients had stenosis of at least one coronary artery), systolic and diastolic pressure at rest decreased by 7 and 6%, respectively, and pulmonary systolic pressure decreased by 9%. Sildenafil did not affect cardiac output and did not disrupt blood flow in stenosed coronary arteries, and also led to an increase (by about 13%) in adenosine-induced coronary flow in both stenosed and intact coronary arteries. In a double-blind placebo-controlled study, 144 patients with erectile dysfunction and stable angina, taking antianginal drugs (except nitrates), performed physical exercises until the severity of angina symptoms increased. The duration of the exercise was significantly longer (19.9 seconds; 0.9-38.9 seconds) in patients taking sildenafil in a single dose of 100 mg, compared with patients receiving placebo.
In a randomized, double-blind, placebo-controlled study, the effect of changing the dose of sildenafil (up to 100 mg) was studied in men (n=568) with erectile dysfunction and arterial hypertension taking more than two antihypertensive drugs. Sildenafil improved erection in 71% of men compared to 18% in the placebo group. The frequency of adverse effects was comparable to that in other groups of patients, as well as in those taking more than three antihypertensive drugs.
Studies of visual disorders. In some patients, 1 hour after taking sildenafil at a dose of 100 mg, a slight and transient impairment of the ability to distinguish shades of color (blue/green) was detected using the Farnsworth-Mansell 100 test. After 2 hours after taking the drug, these changes were absent. It is believed that the violation of color vision is caused by the inhibition of PDE-6, which is involved in the process of color transmission in the retina of the eye. Sildenafil had no effect on visual acuity, contrast perception, electroretinogram, IOP or pupil diameter.
In a placebo-controlled cross-sectional study of patients with proven early-age macular degeneration (n=9), sildenafil in a single dose of 100 mg was well tolerated. There were no clinically significant changes in vision assessed by special visual tests (visual acuity, Amsler grid, color perception, color passage modeling, Humphrey perimeter and photostress).
Effectiveness. The efficacy and safety of sildenafil were evaluated in 21 randomized, double-blind, placebo-controlled trials lasting up to 6 months in 3,000 patients aged 19 to 87 years with erectile dysfunction of various etiologies (organic, psychogenic or mixed). The effectiveness of the drug was evaluated globally using an erection diary, the international index of erectile function (a validated questionnaire on the state of sexual function) and a partner survey.
The effectiveness of sildenafil, defined as the ability to achieve and maintain an erection sufficient for satisfactory sexual intercourse, has been demonstrated in all studies conducted and confirmed in long-term studies lasting 1 year. In fixed-dose studies, the ratio of patients who reported that the therapy improved their erection was 62% (sildenafil 25 mg dose), 74% (sildenafil 50 mg dose) and 82% (viagra – sildenafil 100 mg dose) compared to 25% in the placebo group. The analysis of the international index of erectile function showed that in addition to improving the erection, treatment with sildenafil also increased the quality of orgasm, allowed achieving satisfaction from sexual intercourse and general satisfaction.
According to the generalized data, among the patients who reported an improvement in erection during treatment with drugs, there were 59% of diabetic patients, 43% of patients who underwent radical prostatectomy and 83% of patients with spinal cord injuries (versus 16, 15 and 12% in the placebo group, respectively).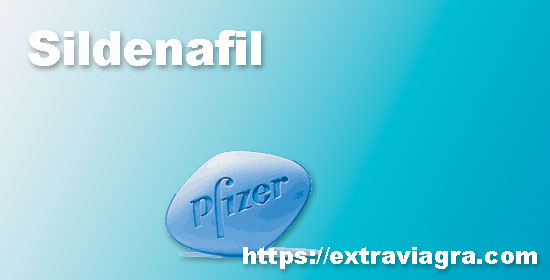 Pharmacokinetics
The pharmacokinetics of sildenafil in the recommended dose range is linear.
Suction. After oral administration, sildenafil is rapidly absorbed. The absolute bioavailability on average is about 40% (from 25 to 63%). In vitro, sildenafil at a concentration of about 1.7 ng/ml (3.5 nM) suppresses the activity of human PDE-5 by 50%. After a single dose of sildenafil at a dose of 100 mg, the average Cmax of free sildenafil in the blood plasma of men is about 18 ng/ml (38 nM). Cmax when taking sildenafil orally on an empty stomach is achieved on average within 60 minutes (from 30 to 120 minutes). When taken in combination with fatty foods, the absorption rate decreases: Cmax decreases by an average of 29%, and Tmax increases by 60 minutes, but the degree of absorption does not significantly change (AUC decreases by 11%).
Distribution. The Vss of sildenafilum is on average 105 liters. The association of sildenafil and its main circulating N-demethyl metabolite with plasma proteins is about 96% and does not depend on the total concentration of the drug. Less than 0.0002% of the dose of viagra (an average of 188 ng) was detected in semen 90 minutes after taking the drug.
Metabolism. Sildenafil is metabolized mainly in the liver under the action of the isoenzyme CYP3A4 (main pathway) and the isoenzyme CYP2C9 (minor pathway). The main circulating active metabolite formed as a result of N-demethylation of sildenafil undergoes further metabolism. The selectivity of this metabolite against PDE is comparable to that of sildenafil, and its activity against PDE-5 in vitro is about 50% of the activity of sildenafil. The concentration of the metabolite in the blood plasma of healthy volunteers was about 40% of the concentration of tablets. The N-demethyl metabolite undergoes further metabolism; its T1/2 is about 4 hours.
Withdrawal. The total clearance of sildenafil is 41 l / h, and the final T1/2 is 3-5 h. After oral administration, as well as after intravenous administration, sildenafil is excreted as metabolites, mainly by the intestines (about 80% of the oral dose) and to a lesser extent by the kidneys (about 13% of the oral dose).
Special patient groups: Old age. In healthy elderly patients (older than 65 years), the clearance of sildenafil is reduced, and the concentration of free sildenafil in blood plasma is about 40% higher than in young patients (18-45 years). Age does not have a clinically significant effect on the frequency of side effects.
Impaired renal function. With mild (creatinine Cl 50-80 ml/min) and moderate (creatinine Cl 30-49 ml/min) degree of renal insufficiency, the pharmacokinetics of sildenafil after a single oral dose of 50 mg does not change. In severe renal insufficiency (creatinine Cl < 30 ml/min), the clearance of sildenafilum decreases, which leads to an approximately twofold increase in the values of AUC (100%) and Cmax (88%) compared with those of normal renal function in patients of the same age group.
Liver function disorders. In patients with cirrhosis of the liver (classes A and B according to the Child-Pugh classification), the clearance of medication decreases, which leads to an increase in the values of AUC (84%) and Cmax (47%) compared to those with normal liver function in patients of the same age group. The pharmacokinetics of viagra in patients with severe hepatic impairment (Child-Pugh Class C) has not been studied.