Does any direct connection between impotence and prostatitis really exist? What should a men who have noticed the very first symptoms of prostatitis, but do not want to give up quality sex, do? Today, I will list the most important things about the influence of these two diseases on each other.
What is prostatitis, how does it arise, and what symptoms it has?
Before talking about the connection between impotence and prostatitis, I will briefly talk about the disease itself. Unfortunately, the older we are, the more likely it is to get sick. However, we have various methods of prevention and treatment. I'd mention them, too.
Prostatitis for dummies
The prostate gland, or prostate, performs very important functions in the male body. In particular, it secretes a substance that makes up 75% of the total semen volume. Also, it works with testosterone metabolism.
Inflammation of the prostate gland, or prostatitis, overtakes many men. Most often, patients get this disease of the genitourinary system as a result of infections, frequent hypothermia, certain injuries, and also due to a sedentary and, in general, improper lifestyle.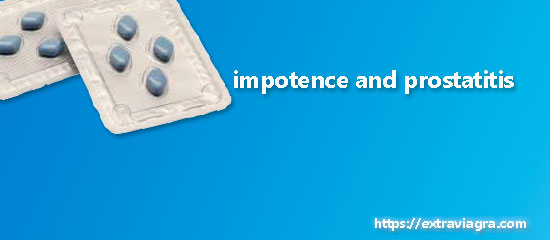 Before talking about the connection between impotence and prostatitis, I would like to list the main symptoms of the second disease. They include a feeling of heaviness and dull pain in the lower abdomen, lower back and / or perineum, painful and / or frequent urination, a feeling of incomplete emptying of the bladder, signs of intoxication. In addition, some patients notice unhealthy discharge from the penis, pain and heaviness in the anus, as well as a decrease in potency and even libido.
Why this connection between impotence and prostatitis might exist?
In fact, doctors and scientists still have different opinions on this matter. Particularly, according to one of the opinions, damage to the endothelium of the vessels of the penis leads to a decrease in erection. In fact, most doctors think exactly so.
However, some other experts insist that psychological causes as a result of prostatitis lead to impotence. According to them, constant pain causes depression and anxiety, which, in turn, lead to erectile dysfunction.
How to restore potency with prostatitis?
If erectile dysfunction arises because of infection and damage to the prostate, Viagra will (most likely) not help you. In this case, a patient must first of all heal the underlying disease, prostatitis.
For bacterial prostatitis, doctors usually prescribe antibiotics. In addition, they recommend the use of physical therapy and massage to increase blood flow to the site of infection and relieve swelling in the prostate gland. Subsequently, and even at the same time, you can take Viagra. It will help both in sex and in improving blood flow in the genital area.
Methods for preventing inflammation of the prostate gland
Oddly enough, regular sex life is one of the best methods of preventing prostatitis. Of course, a healthy lifestyle in general, as well as good hygiene, especially during intercourse, will not hurt you as well. In addition, doctors recommend avoiding hypothermia. Also, do not forget about regular check-ups. Men over the age of 40 should visit their therapist and urologist at least once a year.
How serious is the connection between impotence and prostatitis?
According to statistics, about 30% of men with chronic prostatitis also suffer from erectile dysfunction, and often also from premature ejaculation. Impotence with prostatitis increases gradually, over the years. Moreover, as a result of insufficient functioning of the prostate gland, insufficient synthesis of secretions occurs, which in turn negatively affects the male reproductive system.